Twenty-fourteen has been a fantastic year for me. The following post allows me to both reminisce on all the fun times I've had in 2014 (and that not-so-fun time my laptop was stolen) and to also look ahead to the arrival of 2015, where I hope to have bigger, better adventures (and have less laptops stolen)! Between school, interning at Google in California, and traveling this year has been total amaze-balls. Here's my story…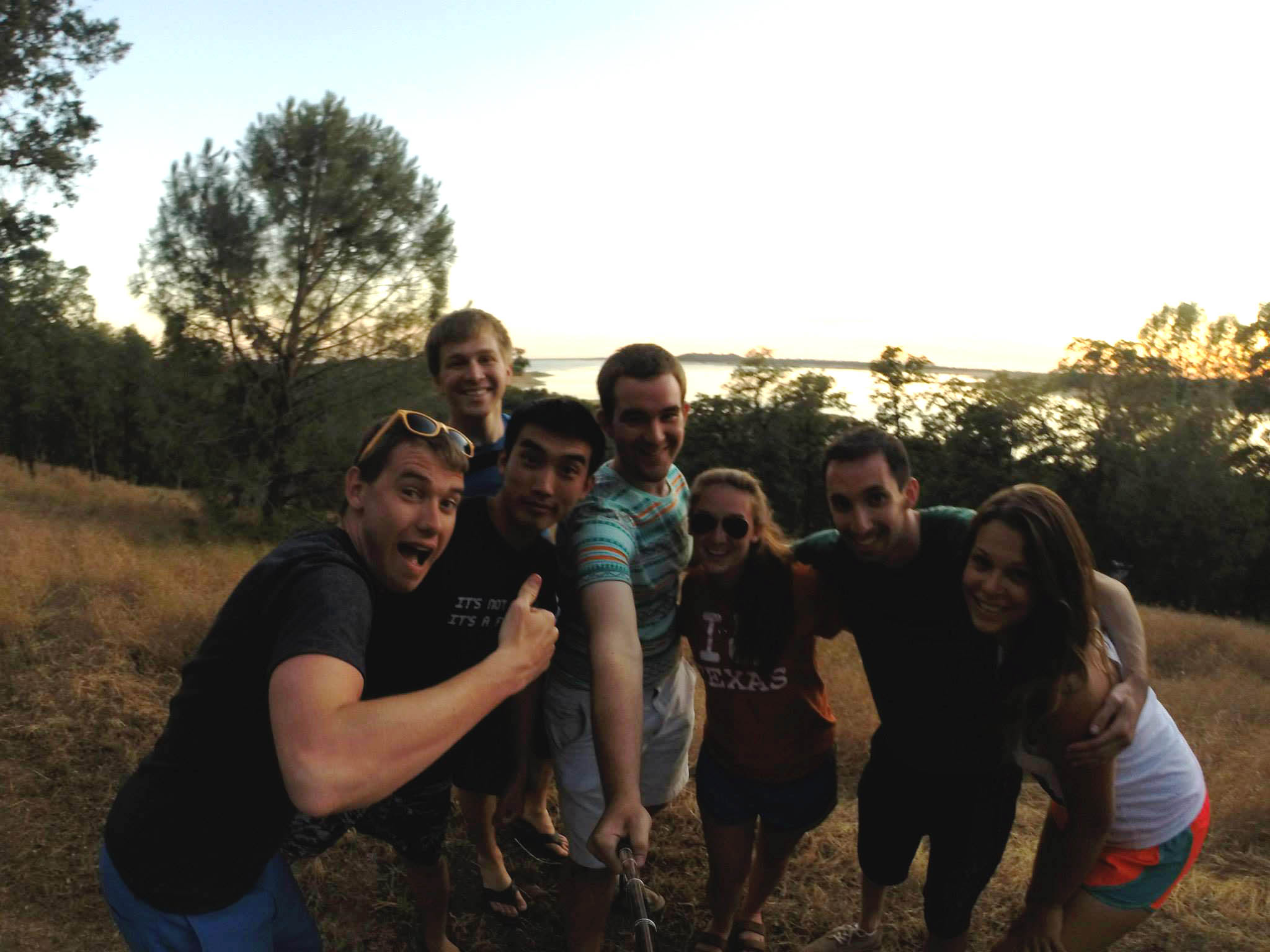 Camping out in the boonies with my summer roommates was a favourite memory of mine. This post is written in loving memory of Michael's GoPro.
School
Study study study. A large portion of 2014 for me has been school. I'm in the works of finishing up my degree at Carleton University for Software Engineering and should be graduated by May 2015. It's right around the corner now!
School has been a wild ride for me and it's not yet over, but chugging through these last couple years has been slow and painful, especially just knowing I'm in the final stretch.
Looking back on all the people I've met in school makes me really appreciate all the time (and not to mention money) I've spent going through post-secondary education to get my degree. These people are irreplaceable and when we all move on to our big, important grown-up jobs, I hope to continue to keep in touch with them. No photos here because school is boring af.
Google
Sandwiched between two school terms was my amazing adventure at Google as a summer intern. I had the absolute honour of working with the Developer Relations team at Google as a Software Engineering Intern. This unique opportunity exposed me to the weird and wonderful world of DevRel.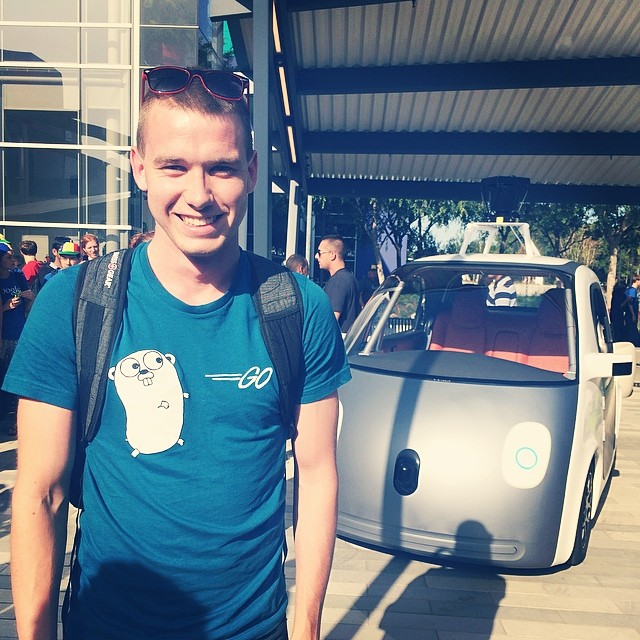 Posing with the new Google self-driving car on the day it was announced. It's so freaking cute.
Typically at Google, Software Engineering Interns are either given a project to work on or have some say in the project they want to work on during their summer. At the end of the summer, you'll have to gauge the impact you had using real-world metrics and write yourself a self-review on how successful your summer internship was at Google for both yourself and for Google.
I'm lucky to say that I had it even better than most other interns. During my 14 weeks at Google I got to work on two different projects and have a large impact on both:
Google API NodeJS Client
Google I/O Codelab Kiosks
Google API NodeJS Client
The Google API NodeJS Client library, found here on GitHub, is Google's official library used for interacting with Google APIs in NodeJS. Originally developed to support most Google APIs out of the box, it was slow, buggy and just didn't deliver the right experience that NodeJS developers expected.
During my summer, myself with lots of help of my mentor @rakyll, rewrote the majority of the library's codebase to deliver a better experience to Node developers, resulting in a skyrocketing of popularity for the module, nearly doubling its number of stars to 2600+ and decreasing issue counts by over 50%.
Overall the project re-write was a huge success and I'm super happy to have had the opportunity to contribute to it. If you're a node hacker and wanna get your hands messy or give feedback on the project, check it out on GitHub.
Google I/O Codelab Kiosks
With Google I/O fast approaching and the World Cup eating up much of the Developer Relation full-timer's attention, they needed to recruit me, the intern with ever-lasting energy, to work on Google I/O Codelab Kiosk software to be used at the 2014 Google I/O conference in San Francisco.
Again, this was an amazing opportunity being able to work with so many awesome people across many different parts of Developer Relations. The big difference between this project and the traditional intern project is that it had a REALLY HARD deadline (you can't just move Google I/O… and we're talking weeks until lift-off, not months) that would have REALLY BAD consequences if they weren't met.
Stress levels were high during this time, but caffeine levels were higher and together we all got it done and we saw it all come together (I won't say smoothly but rather in good timing) at Google I/O that year.
Google I/O 2014 registration lines. Where all the developers got their free watches!
Seeing hundreds of developers using the Codelab Kiosk system to learn about new Google technologies and being able to first-hand mentor these developers at Google I/O was a great experience for me as a learner but also as a teacher and as a peer.
Going back
Overall interning at Google was an amazing opportunity. So amazing that I just had to try and go back. Fortunately, Google also wants to have me back so I'm very excited to say that I'll be joining Google full-time in June 2015 as a Developer Programs Engineer in California. I cannot wait to be finished school and on my way to the warm sun-soaked California.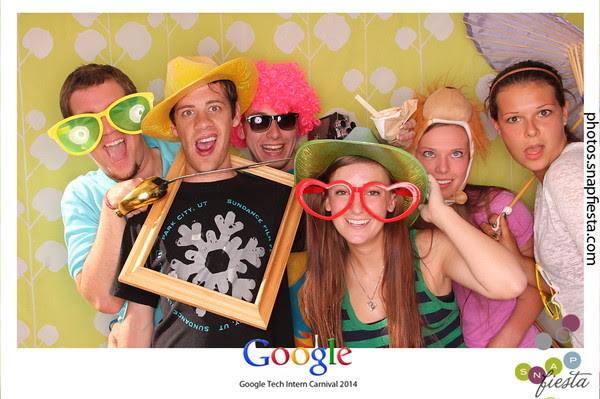 The Google Intern Carnival was a fun-filled afternoon filled with bouncy castles, ice-cream trucks, mechanical bulls and free alcohol. A true intern's paradise.
Travel
Yosemite
Working at Google can be an exhaustingly fun place to work which means winding down with a solid weekend vacation at 10,000 ft elevation is the only natural way to rejuvenate. This memorable weekend trip was to Yosemite National Park in California, where we (my amazing Google roommates and I) drove 3-4 hours up into the mountain air and enjoyed the weekend without cell-phones, electricity or a single fuck to give.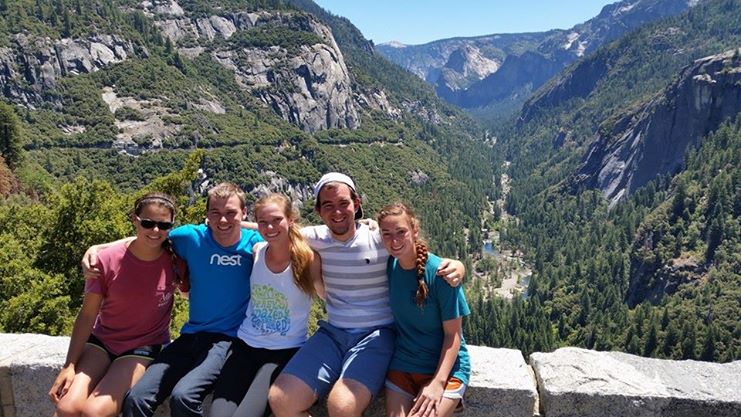 Yosemite's views are to die for. This one spotted on the side of the road was too good to pass up for a photo-op.
We climbed the rocks in the late hours of the night, nearly walking off cliffs and watching the stars twinkle and shoot across the sky. We rode pack-mules around the mountains and through the bushes before arriving at a beautiful picturesque view that could never equally be captured in a photo.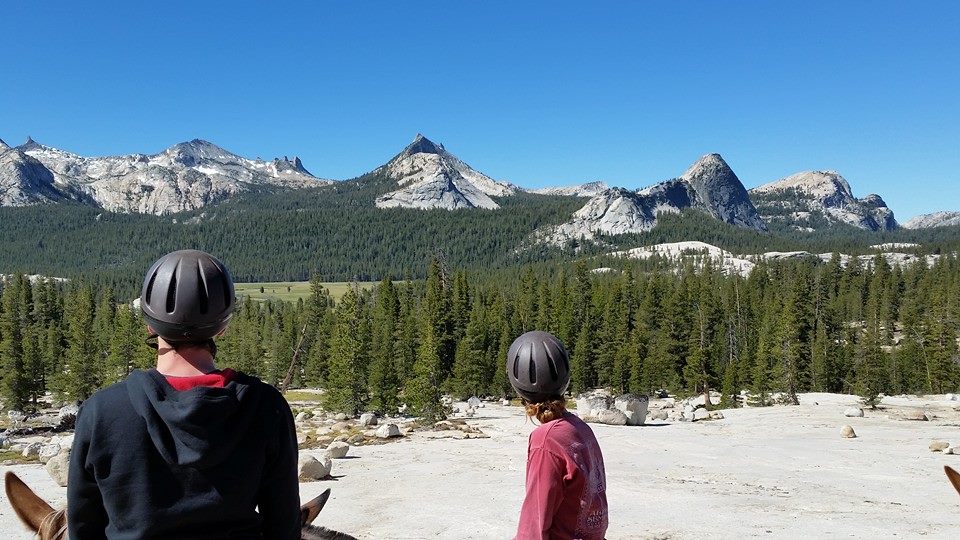 The view at the end of our pack-mule ride. I'm there on the left soaking it all in.
Yosemite was a great deal of fun and created a mule's pack worth of memories to cherish for years to come. Anyone considering Yosemite as their next destination should definitely go through with it. Just be sure to pack lots of warm clothes, especially for the winter months. The summer nights, as we learned, dip to nearly freezing, 0 degrees Celsius (32 in Freedom degrees), resulting in a rather chilly surprise.
Europe
Even as a Canadian, I'll take any chance I can get to escape the cold hands of mother nature's winters or the sweaty humid hands of the Ottawa summer. So naturally moving to California to intern at Google for the summer was such a blessing, though eventually I did start to miss the rain due to the ever-lasting record-breaking drought California saw this year.
Before returning to Ottawa following my internship, I decided to take a solo backpacking journey around Europe to refresh before school started again.
My travel plans were as follows:
San Francisco, USA → London, UK → Amsterdam, Netherlands → Oslo, Norway → Rome, Italy → Barcelona, Spain → Porto, Portugal → London, UK → Toronto, Canada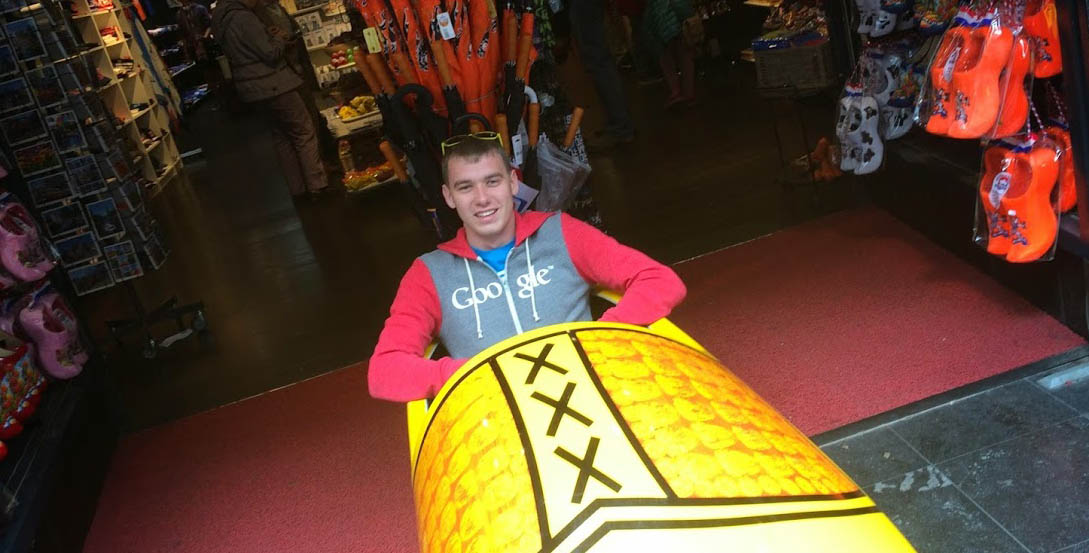 Posing in a giant clog in Amsterdam. I'm like the little old lady that lived in the shoe.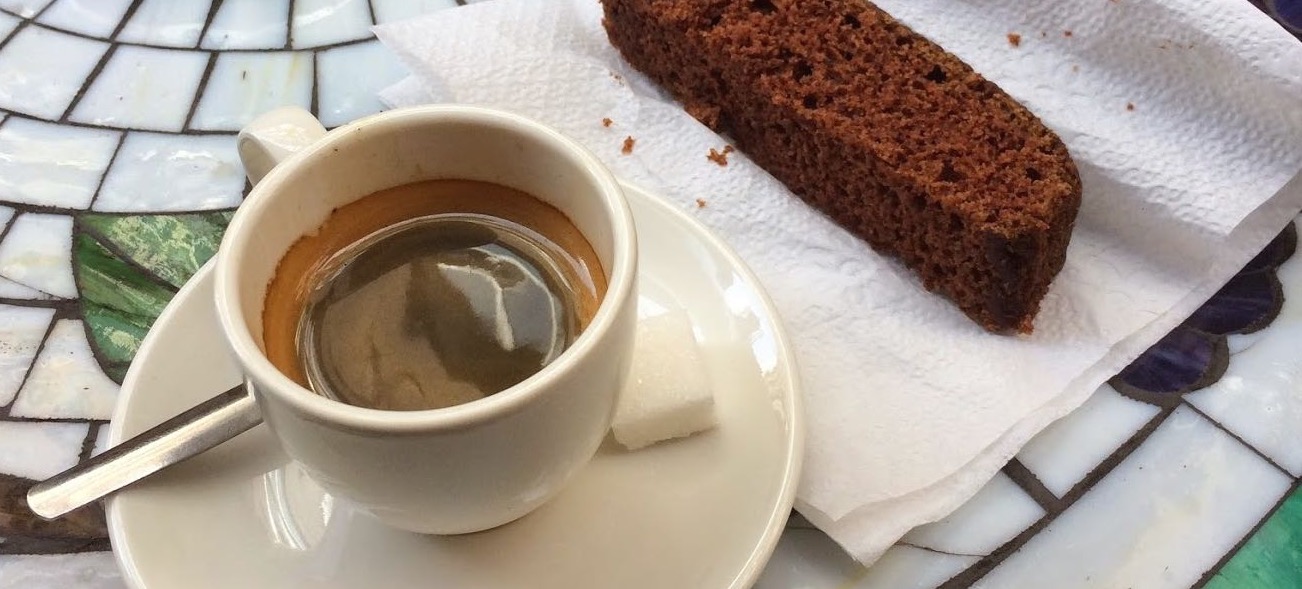 The coffee and the "coffee" in Amsterdam wasn't so bad. Out of shot: A couple cool Aussies I befriended from my hostel.
Unfortunately, my travel was cut short in Amsterdam after having nearly all my belongings stolen from me including my laptop, clothes and most importantly my dignity and energy. The unfortunate event happened rather simply: I placed my luggage in a locked-yet-unmonitored luggage room at my hostel, left to find coffee, and later returned to discover my luggage had mysteriously vanished from previously-said-room…
My resulting trip looked like this instead:
San Francisco, USA → London, UK → Amsterdam, Netherlands → Amsterdam Police Station → Toronto, Canada
Luckily I had my money and passport on me but rather than continue the journey in an exhausted state of paranoia, I decided it was healthier for myself and my wallet to cut my losses and head home early. Months later, the Amsterdam court mailed me a letter saying they found the suspect that stole my belongings and put them in jail for 4 months for the crime. JUSTICE! (Sorta, I never did get my things back…)
New Years in NYC
In two days, I'll be traveling to NYC for the first time to experience New Years Eve in New York with my roomies and friends from the summer. Though I don't expect NYC to disappoint, it's the people I'm most excited to see again! Cheers to all your New Year's Eve celebrations and resolutions!
Twenty-fifteen
I've met so many fantastic people and seen so many fantastic places that it's going to be hard to 1-up it all next year.
Here's a couple lessons I've learned this year that hopefully I can carry into 2015:
Don't leave your luggage unattended in a public space. Be extra cautious while traveling abroad and don't trust "the system" to always work. Make sure you keep your money and passport on you at all times.

People are awesome. Don't take them for granted.

Don't fall off cliffs (e.g. at Yosemite). That wouldn't be very fun.

Google's a cool place to work, but the perks don't really matter that much. The people do. See #2 for more information.

Travel more and make more mistakes. It's the best way to learn for yourself.

Write more blog posts. Here's a start.
Cheers to your twenty-fifteen!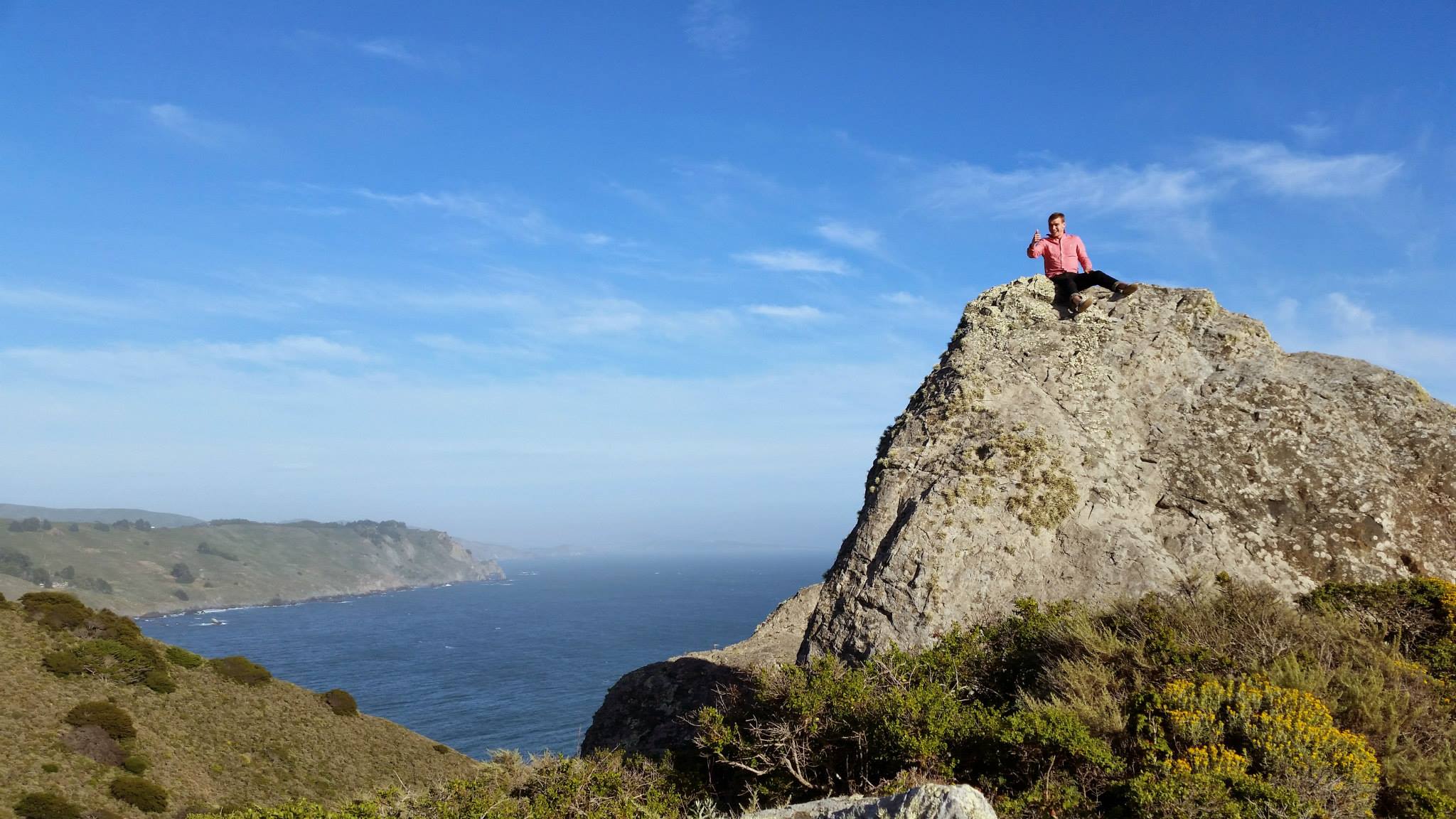 For more silly ramblings like this, follow me on Twitter.
blog comments powered by

Disqus
- - -